Dear all
March is just around the corner and according to the calendar it is spring even though the weather is not quite showing signs of spring – it is still cold. But then you can warm yourself with the fact that we are holding the Scandinavian DataFlex Users' Conference – SCANDUC in 2 weeks. :=D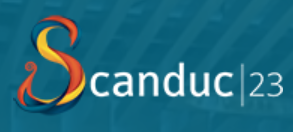 Last call for registrations this week. Hurry up!
We can now present a program packed with news presented by the team behind Data Access, as well as inspiring presentations from selected participants. For only 510€ you get two full conference days and a surprise dinner on Thursday evening with all the trimmings.

DataFlex 2023 has just been released in "alpha 2".
Come to SCANDUC and learn what DataFlex 2023 contains of new features. Among others SQL Code Sense and FlexTron – read more about new features here.
In addition, existing good DataFlex components will be reviewed. You can read more about these useful and ready-to-use components in your DataFlex developme:

This standalone component allows you to scan both one- and two-dimensional codes using handheld and mobile devices, which then relays the information directly to your DataFlex web app.

This "ready to go" component allows for the display of images in your own apps, in almost all popular formats (GIF, JPG, PNG, ICO, BMP and more). Examples that can be applied to the images can be seen on the following link.

Code Jock special offer:
As a DataFlex programmer, there is a special offer that you might want to consider if you already use or plan to use Code Jock for your Windows applications.
30% discount for DataFlex developers who purchase a new Suite Pro license.
Discount Code: DATAFLEX!!
End Date: None
DataFlex developers who already have their own Codejock license get a special 50% upgrade discount by purchasing a new Suite Pro license.
Discount Code: NOWBETTER
End Date: 30-JUN-2023
Can be ordered on the CodeJock online store.
———————————————————————————————————
Johan Broddfelt has posted a new video after a long break. Don't miss this video.
Next newsletter will come at the end of March after SCANDUC, where we will write about selected presentations shown at the conference.
Kind regards
FrontIoT ApS